William C. Ayer Jr.

Partner

TrueGuarnieriAyerLLP

| Civil Litigation | Criminal | Divorce | Personal Injury |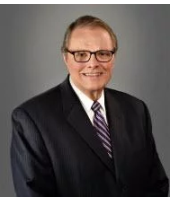 William (Bill) C. Ayer, Jr. was born in Owensboro, KY and raised in Calhoun and Madisonville, KY. He graduated from Madisonville High School then enrolled at Murry State University after graduation. After graduating from Murry State, Bill attended the University of Kentucky Law School he obtained his J.D. in 1968. Thereafter, Bill entered the US Army from and ROTC Commission and was stationed, for a majority of time, in Korea. While stationed in Korea, Bill was the Executive Officer for Brigadier General Harold G. Moore, the same solider who was the subject of the movie "We Were Soldiers" that starred Mel Gibson. After his tour of duty was finished, Bill returned to Madisonville, Kentucky to begin practicing law.
William C. Ayer Jr.
Partner
TrueGuarnieriAyerLLP
124 Clinton St Frankfort, KY 40601
| Civil Litigation | Criminal | Divorce | Personal Injury |