Display advertising on cinchlaw.com is a cost-effective way to promote your brand, website, product, and service.
Banners not only promote a brand, services, and products, but they also link directly to a page where internet users can get more information and make a purchase.
Display campaigns have a broad reach and can help you:
Promote your brand
Generate product awareness
Increase sales
Get more leads
Connect with more potential customers with our optimization options like:
Encourage people to notice your brand, consider your products, and take action.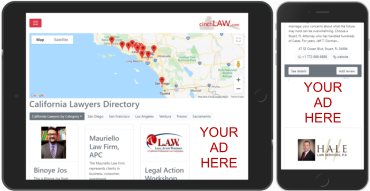 No matter the size of a device visitors search on the cinchlaw.com, your ad we will show after every three listings in their search results, in rotation.
US lawyers and law firms!
Add your profile on cinchLAW.com.
learn more