SEVERSON, WOGSLAND & LIEBL, P.C.
| Business | Criminal | Estate and Probate | Family | Personal Injury |
SW&L Attorneys' mission is to help people. It's that simple. Helping people means serving people. We are committed to providing our clients the best service we can from Fargo, North Dakota. We are experienced. Each of our lawyers concentrates on a particular area of law. We are not generalists. At least one of our attorneys has likely dealt with a legal matter similar to yours several times. Repetitions with the law and the process give us the experience to help you navigate your legal matter. Each of our attorneys focuses on continuing education specific to his or her area of practice and strives to be a leader to better serve our clients. We are approachable. Lawyers do not have to be stuffy suits, and we are not. Most people are not involved with the legal process on a daily basis like lawyers are, and we understand keeping a "nonlawyer" perspective is important to our ability to communicate with our clients. Lawyers do not have to speak over their clients, and we will not. We are responsive. We understand your legal matter is one of the most important things in your life right now. It may be the most important thing in your life right now. Legal matters can be stressful, but being informed is often the best remedy for the stress. We will answer your phone call. We will reply to your email. We will keep you reasonably informed about your legal matter. We focus on solving problems with common sense. We will first discuss your legal matter at length with you in order to understand your objectives, questions, and concerns. We will evaluate your legal options and discuss them with you. If we don't think we can help, we will tell you and do our best to find someone else who can. If we think we can help, then we will tell you. If you hire us, we will discuss and explain legal strategy and tactics. If negotiating is in your best interests, we will advise you to negotiate and explain why. If taking it before a judge or jury is in your best interests, we will advise you to litigate and explain why it is in your best interests. We seek to resolve problems instead of create them. If you are looking to fight for the sake of fighting, we are not the right law firm for you.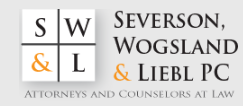 SEVERSON, WOGSLAND & LIEBL, P.C.
4627 44th Ave S #108 Fargo, ND 58104
| Business | Criminal | Estate and Probate | Family | Personal Injury |