Robert J. Gunn

attorney

Gunn & Gunn Law Firm

| Business | Estate and Probate | General Practice | Taxation |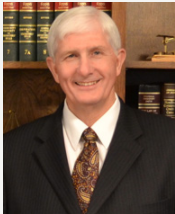 Robert has been practicing law for over 40 years and is a shareholder in the firm. He graduated from Minot High School in Minot, North Dakota. He received his Bachelor of Arts degree from Brigham Young University in Political Science as well as a Master of Science in Public Administration. He graduated from Willamette University College of Law and received his Juris Doctorate. Robert is a member of the state bars of Oregon, Utah, and Arizona. He is also admitted to practice in both State and Federal courts in all three states. He is admitted to practice before the Supreme Court of the United States of America, the United States Tax Court, and the Ninth Circuit Court of Appeals. After law school, Robert served as an Assistant City Attorney for the City of Salem, and thereafter served as City Attorney for Lehi and Sandy, Utah, as well as Falls City, Oregon. Robert has also served as a Municipal Court Judge.
Robert J. Gunn
attorney
Gunn & Gunn Law Firm
3635 Liberty Rd. S, Salem, Oregon 97302
| Business | Estate and Probate | General Practice | Taxation |