ROBERT E. MIELNICKI

Owner-Attorney

Robert E. Mielnicki, Attorney At Law

| Criminal | Personal Injury |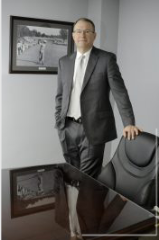 Pittsburgh Criminal Defense Attorney Robert E. Mielnicki graduated cum laude from Duquesne University School of Law in 1991. He finished 5th in a class of 100, was invited to join the Law Review and worked at Kirkpatrick & Lockhart, one of the biggest law firms in the country, while in law school. Upon graduation, he worked for four years as a Public Defender. During those four years he represented thousands of clients charged with crimes. While those four years were a great learning experience, Pittsburgh Criminal Defense Attorney Robert E. Mielnicki secured jury trial acquittals while a Public Defender for clients charged with Murder, Felony Drug Offenses, Burglary and Theft. Since entering private practice in late 1995, he has continued to practice criminal law in both state and Federal court. Attorney Mielnicki cannot think of a crime that he has not had to defend a client against. He has been consulted as an expert in criminal law and has taught other attorneys continuing education classes regarding DUI Strategies and Police Liability through Lorman Education Services. He prides himself in reviewing the newest cases relevant to Pennsylvania criminal law at the end of each month.
ROBERT E. MIELNICKI
Owner-Attorney
Robert E. Mielnicki, Attorney At Law
428 Forbes Ave #400 Pittsburgh, Pennsylvania 15219
| Criminal | Personal Injury |