Lynn W. Jinks, III-Jinks, Crow & Dickson, P.C.
Lynn W. Jinks, III-Jinks, Crow & Dickson, P.C.
219 Prairie St N Union Springs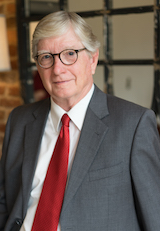 Mr. Jinks has been practicing law for 39 years. His practice has been concentrated in representing people and small businesses in court. He focuses on personal injury cases involving catastrophic injury and death. He is also involved in a number of complex litigation matters, multi-district litigation cases and class actions. He has offices in Montgomery, AL and Union Springs, AL but his practice is nationwide. He is licensed to practice law in Alabama, Louisiana, New York and the District of Columbia. Mr. Jinks' family has a long history of law related activities. His great grandfather practiced law in Bullock and Montgomery counties around the beginning of the 20th century. His grandfather served Bullock County as Probate Judge and later as Circuit Clerk and his father practiced law in Alabama for over 50 years.