Kristina B. Murphree

Partner Attorney

Marks Clare & Richards, LLC

| Family |
Sworn into the Nebraska Bar in 1986, this Omaha lawyer is ready to serve her clients with more than 30 years of experience in the court rooms, negotiation rooms, and in the small details only an experienced lawyer comes to know. With hundreds of cases under her belt, she understands there is no "one size fits all" legal solution. She is aware that two people with the same general legal issue can have very different views, goals, and hopes. She takes the time to listen to her clients and hear what they are hoping to achieve. Kristina is driven by the desire to help others. She enjoys helping people achieve their goals regarding their legal cases. "I like meeting people and learning about their lives," she says. "I make sure the judge knows my client as an individual, not just a case number." Her main objective is to ensure her clients know they are bring heard, and see she is advocating for them in and out of the courtroom. Kristina Murphree feels most in her attorney element when heavily engaged in litigation and trial work; however, she is always looking to resolve her clients case quickly and amicably in order to save them money. She is referred to as a "common sense" attorney. She does not look to fight for a position that is contrary to the law, and she is always willing to have difficult conversations with her clients regarding the likely outcomes of a case.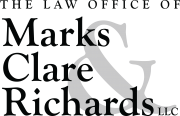 Kristina B. Murphree
Partner Attorney
Marks Clare & Richards, LLC
11605 Miracle Hills Dr. Suite 300 Omaha, NE 68154