Delmas A. Costin, Jr.
| Employment | Labour |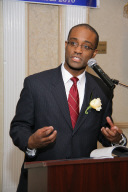 Mr. Costin began his legal career serving as an Assistant District Attorney in the Office of the Bronx District Attorney. He was the primary prosecutor in dozens of trials and proceedings during his 6 year tenure. He also worked in Manhattan law firms where he represented personal injury defendants, labor unions and union benefit funds in litigation throughout the tri-state area. Mr. Costin has practiced law in New York State since the late 90's. Mr. Costin fights hard for individuals accused of committing a crime. The law is clear – you are innocent until proven guilty. A criminal accusation does not mean that you are indeed guilty – it means that the District Attorney only has a belief a crime has been committed and ultimately must prove it. Mr. Costin forcefully defends the criminally accused at trial and in certain circumstances crafts plea deals that do not have jail time. His hard work and creativity make him a successful attorney.
Delmas A. Costin, Jr.
177 E. 161st Street Bronx, NY 10451