Bogard, Heather

attorney

Costello Porter Hill Heisterkamp Bushnell & Carpenter LLP

| Business | Civil Litigation | Insurance | Personal Injury |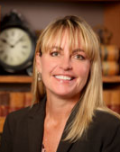 Heather Lammers Bogard graduated from the University of Nebraska-Lincoln in 1993. She obtained a degree in Business Administration. In 1996, she graduated from University of South Dakota School of Law where she was editor-in-chief of the South Dakota Law Review. She also authored a law review article which was published in the South Dakota Law Review, "Murphy v. Basile: Successful Abandonment by the Judicial System of a Mother Asserting In Personam Jurisdiction Against a Nonresident Putative Father." Following law school, Heather was employed as a law clerk for Justice Robert A. Amundson of the South Dakota Supreme Court. In 1997, Heather began practicing with Costello Porter Law Firm. She became a partner with the firm in 2001. Her practice areas include primarily civil litigation and employment law. Heather also has extensive jury trial experience. She was appointed to be a member of the American Board of Trial Advocates in July of 2014. She is also a member of the South Dakota Defense Lawyers Association. Heather authored, 'Family and Medical Leave Act Developments & Overview' and presented a seminar on the topic in 2003 as well as co-authoring "Confidentiality of Medical Records in South Dakota" and presented a seminar on the same in November of 2003. In February of 2007, Heather and Attorney Michael Hoffmann presented a medical records law seminar. Heather presented additional, updated medical records law seminars in 2010 and 2011. The seminars provided informational background with respect to South Dakota and federal laws relating to confidentiality of medical records, practical instruction and guidance for compliance of privacy standards in a practice setting, as well as recent developments with HIPAA.
Bogard, Heather
attorney
Costello Porter Hill Heisterkamp Bushnell & Carpenter LLP
200 Security Building, 704 St. Joseph St. PO Box 290 Rapid City, SD 57709
| Business | Civil Litigation | Insurance | Personal Injury |