ALISHA B. SAVANI - Sandy T. Fox, P.A.
| Family |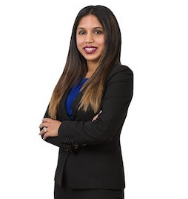 Alisha B. Savani is an associate with Sandy T. Fox, P.A. Ms. Savani is well versed in the areas of family and marital law and has a passion for assisting clients in their most difficult times. Ms. Savani strives to practice with compassion and diligence. Prior to joining the firm, Ms. Savani served as an Assistant Attorney General for the Florida Office of the Attorney General, Child Support Enforcement Unit in Fort Lauderdale. While there, Ms. Savani gained a considerable amount of litigation experience representing the Department of Revenue in child support establishment, modification, and enforcement proceedings. Ms. Savani attended thousands of hearings and advocated on behalf of the Department of Revenue before judges, general magistrates, hearings officers, and administrative law judges.
ALISHA B. SAVANI - Sandy T. Fox, P.A.
2750 NE 185th St, #302 Aventura, Florida 33180