Robert M. Way - Thompson•Krone, P.L.C.
| Estate and Probate |
Robert began his education at Boston University – Tanglewood Institute of Music, then onto the University of San Diego (Bachelor's Degree in Philosophy), and finally Thomas Jefferson School of Law, in San Diego, California, where he received his Juris Doctor degree in 2001. Mr. Way's practice focuses on estate planning, probate and trust administration, guardianship and conservatorship, elder law, corporate representation, and probate and end-of-life litigation. Also, his work occasionally includes Catholic estate planning, where he advises both individuals and clergy on the interaction and integration of canon law and civil law in one's estate plan.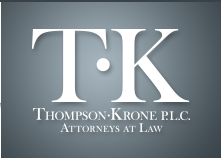 Robert M. Way - Thompson•Krone, P.L.C.
4601 East Ft. Lowell Road, Suite 109 Tucson, Arizona 85712