Allred & Allred, P.C.
| Personal Injury |
If you or a loved one has been injured in an accident, you are well-advised to seek the counsel of a competent, experienced personal injury attorney who can help you recover damages, including those related to medical bills and lost wages, as well as pain and suffering. It is important to find a lawyer with the training and background necessary to properly handle your case and protect your interests while seeking maximum compensation for your injuries. The Alabama personal injury lawyers at Allred & Allred have more than 40 years of combined experience representing clients throughout the state in a variety of matters, from truck and car accidents to work-related injuries and products liability suits. Our insurance defense background - representing insurance companies in claims by injured persons - gives us a considerable advantage in handling our clients' cases. We have an intimate understanding of how insurers consider claims, their tactics and strategies, and we know what to expect from the other side throughout the process.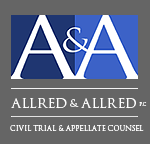 Allred & Allred, P.C.
7030 Fain Park Dr Suite 9 P.O. Box 241594 Montgomery, Alabama 36117