Alejandro Gonzales

Attorney at Law
Thompson•Krone, P.L.C.
| Corporate and Commercial | Estate and Probate |
Alejandro was born and raised in Nogales, Arizona and considers himself an Arizonan through and through – he is a fan of the Arizona Cardinals, Arizona Diamondbacks, Phoenix Suns, and anything related to the University of Arizona. Alejandro enlisted in the United States Marine Corps shortly after September 11, 2001. In addition to being a combat veteran, Alejandro participated in Operation Unified Assistance in the aftermath of the catastrophic Indian Ocean earthquake that devastated and displaced many in Indonesia. After completing his enlistment, Alejandro served as a deputy sheriff in Southern Arizona for eight-years. Alejandro received his undergraduate degree from the University of Arizona and attended Marquette Law School in Milwaukee, Wisconsin, where he was the Co-President of the Hispanic and Latino Law Student Association and a public interest law scholar. After graduating from law school and before joining Thompson Krone PLC, Alejandro served as a prosecutor in Santa Cruz County. Although the majority of Alejandro's adulthood has centered around being a public servant, he looks forward to making the transition into the private sector, practicing a whole new realm of law, and serving his client needs.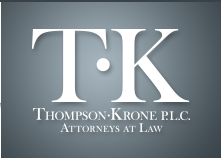 Alejandro Gonzales
Attorney at Law
Thompson•Krone, P.L.C.
3430 E. Sunrise Drive, Suite 110, Tucson, AZ 85718
| Corporate and Commercial | Estate and Probate |